The Mas des Graviers is an early 18th century stone farmhouse, meticulously restored, and housing the private art collection of a Norwegian investor and art collector, and his family who spend parts of the summer and autumn at the Mas.
In the winter and spring they offer it to artists who apply from all over the world as a place to work in the "footsteps of Cezanne" – who painted many of his most famous paintings near the Mas. Over the last 25 years more than 30 artists from all continents have been  selected  for the "artistes en residence" program.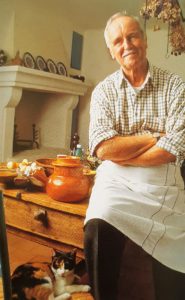 During spring and fall, the manager of the place, Kerstin Allen, is arranging art and gastronomy courses and manages company retreats. She also organizes family reunions such as weddings and birthday celebrations for which the Mas is the ideal place, or offers it to friends who want to experience this magnificent atmosphere of a private retreat in Provence. English and French Language courses are also part of the repertoire.
Guests are welcome to cook for themselves in the large kitchen, (using the gourmet cooking stove (with seven gas burners and three ovens) after foraging in the surrounding numerous and abundant farmer markets, or meals may be arranged by a local cook proficient in the local dishes. Famous cooks like Guy Gedda have given courses in this Provence kitchen, even shown on French TV.
Experience Provence Living at the Mas des Graviers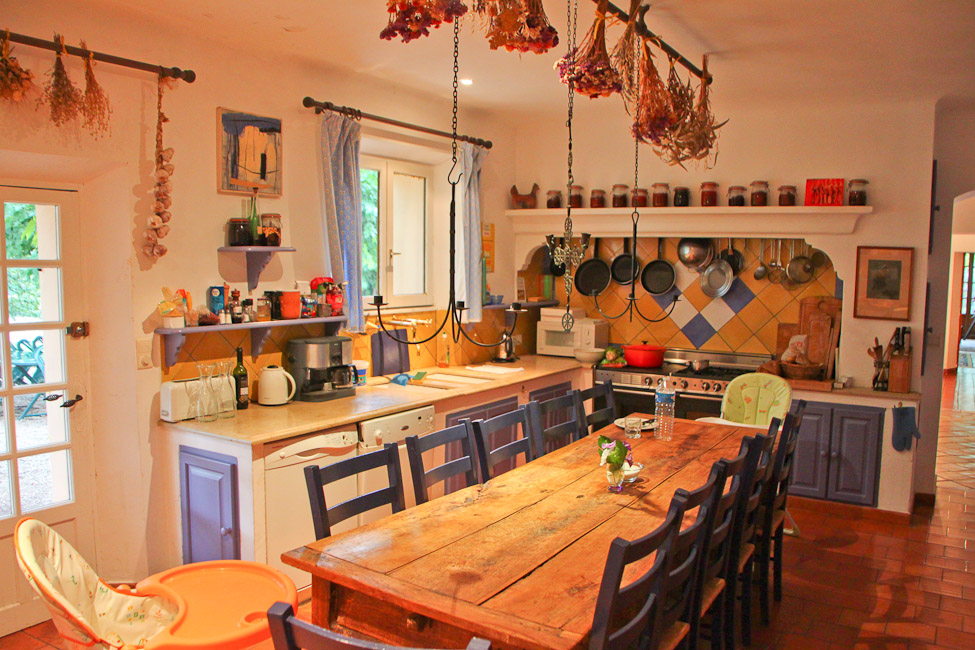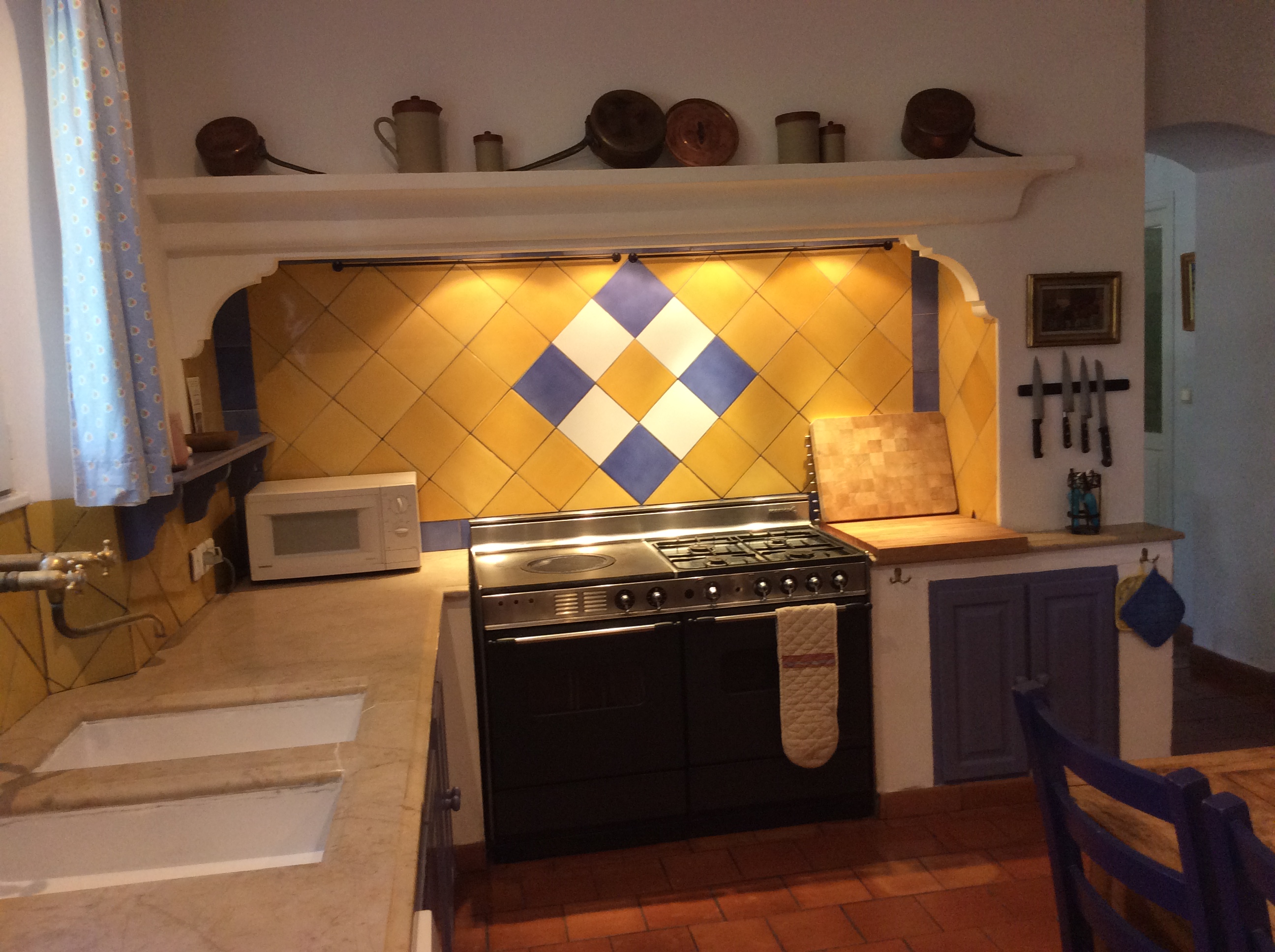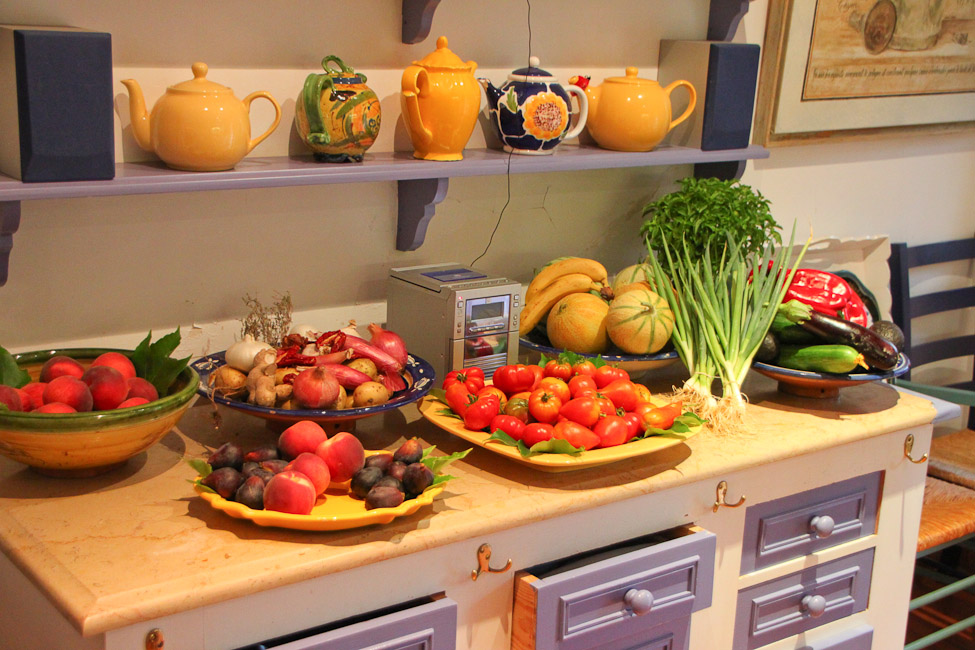 The Mas des Graviers is beautifully decorated in Provençal style, and has been featured in several international home design magazines. It can  sleep up to 14 people in its eight bedrooms, fitted out in traditional Provençal fabrics and colours. It has four bathrooms and three separate water closets.
The Mas has three working fireplaces to whip the chill out of even the fiercest Mistral winds, making it a great place to spend both spring and fall.  Why don't you experience the harvest in September or the quiet Provence fall in October at the Mas
Enjoy a 12 hectare private property in a quite valley
There is a 25-yard swimming pool, a pool house with barbecue, large gardens to stroll around, a tennis court, and a Pétanque court for playing the traditional Provence sport of Boule.
Sleeping arrangements

Three of the eight bedrooms have king-size beds. There is one bedroom with a twin single-size bed. Two bedrooms have a traditional French double bed each as well as a private shower. The master bedroom has an additional sofa extendable to a double bed. allowing a family of four to stay i the room. Finally there are two single bedrooms.
Mas des Graviers is well placed for those looking for outdoor and sports activities, from hiking and climbing the surrounding mountains,  snorkeling and swimming in the nearby Mediterranean waters,  or bicycling and horseback riding through the vineyards of Provence. It is an excellent location for Golf enthusiasts, with several very good 18 hole courses within 15-25 minutes from the vineyard. 
The area around the St.Victoire Mountain is a great place for hiking and bicycling. Kerstin can arrange for offroad bicycle rental if you ask her well in advance. And the tennis court is always available for the sporty Sainte Baume
 And the tennis court is always available for the sporty for an afternoon match
A vineyard to explore the beauty of Provence